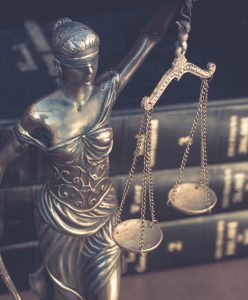 A new law addressing gun safety went into effect on October 1, 2018 in Maryland. This law, which allows concerned parties to file for extreme risk protective orders (ERPOs), is also known as a "red flag" gun law. The law will temporarily prohibit a person's access to guns when a judge determines he or she is a danger to him or herself, or others. The surrender of all guns and ammunition must be immediate if law enforcement serves the order. If the order is received by mail, the respondent must make immediate arrangements to have the firearms and ammunition surrendered. The respondent cannot access any guns or firearms between the surrender and the hearings, or for the time that the ERPO is in effect.
Eleven other states have enacted similar laws, especially in the wake of recent mass shootings. As a piece in the paper explains, "Red flag laws are designed to fill gaps in current laws that may allow some suicidal or dangerous people — for instance, those who haven't been committed or convicted of a serious crime — to have guns, despite showing warning signs of violence."
District judges can issue temporary ERPOs that prohibit people from buying or possessing guns or ammunition if they are determined to be an immediate danger to themselves or others. If the respondent fails to surrender the weapons, the guns are seized, and the respondent is charged with a misdemeanor. The respondent has a legal right to attend a hearing, where it will be determined whether or not he or she remains a danger, and if the ERPO should be extended.
Critics of red flag laws, like the lobbying group, Gun Owners of America, told CNN in a statement, "No one should lose any of their rights without due process. Otherwise, people can make a false claim to get revenge or to disarm the person they're stalking."
Most states with ERPO and red flag laws have enacted related legislation making it a crime to file a harassing or knowingly false petition.
Protective orders in Maryland
Maryland law does allow for people who fear they are in danger, or who are victims of domestic violence, to request protective orders or peace orders, depending on the relationship the two people have. These are temporary orders, but can be extended: a final protective order lasts 12 months, with the potential for an additional 6-month extension, and a final peace order lasts 6 months, with the potential for an additional 6-month extension.
Per the District Court of Maryland:
An Interim ERPO usually lasts until the Temporary ERPO hearing, but not beyond the second business day after issued unless the court is unexpectedly closed.
A Temporary ERPO lasts until the Final ERPO hearing, but not beyond six (6) months.
A Final ERPO may remain in effect for as long as one (1) year. The court for good cause may extend the term of the order for an additional six (6) months after a subsequent hearing.
Once the ERPO expires, the firearms and ammunition will be returned:
14 days after the expiration of an Interim or Temporary ERPO;
14 days after a court terminates a Final ERPO; or
48 hours after the expiration of a Final ERPO.
Maryland's red flag laws go further to close the gaps, and as such, are among the broadest in the nation. We are one of only six states whose ERPO laws allow both family members and household members (for example, roommates) to seek protective orders, according to the Gifford Law Center. Also, as of September 2018, Maryland is the only state to allow certain mental health and other health workers to seek such orders.
If you are a victim of domestic violence, there is help available to you. Please do not wait to get the help you need. The National Domestic Violence Hotline is 1-800-799-SAFE. The Anne Arundel County Hotline is 1-410-222-6800.
The attorneys at Cynthia H. Clark & Associates, LLC are dedicated to advocating for the safety of you and your family. If you are in immediate danger, please call the authorities immediately. To reserve a consultation at our office in Annapolis, please call 410.921.2422 or fill out our contact form.