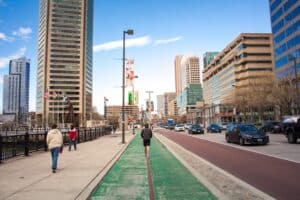 On Sunday, October 1, 2017, the new laws that were passed by the Maryland General Assembly went into effect. The new laws included several new, family law related laws which could have an impact on domestic violence, child support and other Maryland family law cases. We have highlighted a few of them here for you.
If you believe you may be affected by these changes, contact Cynthia H. Clark & Associates, LLC to find out how we may be able to help you.
(HB 293) Family Law – Divorce – Domestic Violence Order
This new law repeals a provision which provided that an order or decision in a domestic violence proceeding is inadmissible in a divorce proceeding; it also repeals a provision that prohibited a court from considering compliance with a domestic violence order as grounds for granting a limited or absolute divorce if they have met all the other requirements.
(HB 1047) Driver Improvement Program and Failure to Pay Child Support
The new law alters the assessment of points and penalties that are associated with the suspension of driving privileges of an individual who fails to attend a specified driver improvement program, or who is an obligor who is 60 days or more in arears with child support payments.
(HB 793) Family Law – Divorce – Restoration of Former Name
This new law authorizes the court to change a person's name (when they file a motion requesting it) to the name given to them at birth or any name they choose within 18 months after a final divorce decree has been granted thus avoiding Maryland's cumbersome name change requirements.
(HB 764) Requirement for Filial Support – Repeal
Adult children may no longer be required to contribute to the care and expense of their destitute parent. This law repeals Maryland's filial support law, which under certain circumstances, required adult children to contribute to the expenses of their parents who were sick or unable to support themselves.
Under the former law, the Maryland Circuit Court and Maryland Assistant State's Attorney could criminally charge an adult child who refused to provide financially for their parent(s).
Family law covers several topics including divorce, child support, child custody, and even issues of domestic violence. Sometimes, family law attorneys must help enforce unpaid child support orders, or advocate for clients who need protection orders from violent spouses. It is our goal to keep you informed when changes in the law occur that might have an impact on our clients' cases.
Do you have questions about a family law case or a domestic dispute? Our Maryland family law attorneys are here to help you. Cynthia H. Clark & Associates, LLC is a premier Annapolis-based family law firm. We offer compassionate and skilled representation to parents throughout Maryland. You are welcome to call 410-990-0090 or fill out the firm's contact form.