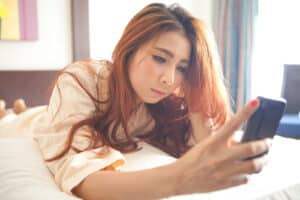 It is likely that you have heard of at least one couple that ran into marital trouble or even broke up because of something posted on Facebook. The ubiquitous social media platform has made its way into billions of people's lives and has had a significant impact on relationships. When your first love from high school is just a click away, and you scroll through a feed of beautiful, happy people living lives that seem far more interesting than yours, it can be easy to get a bit carried away.
But what happens when that same social media platform becomes the method through which your divorce can be processed, instead of just the reason?
A judge allowed a woman to serve her spouse divorce papers on Facebook
Manhattan Supreme Court Justice Matthew Cooper has given Ellanora Baidoo permission to serve her husband, Victor Sena Blood-Dzraku, with divorce papers through a private message on Facebook. The husband has made himself difficult to find and Ms. Baidoo has only been able to communicate with him through Facebook and on the phone. She sent the first message to him last week but so far she has not received a response according to a story in the Wall Street Journal.
In his statement, Judge Cooper wrote: "The past decade has also seen the advent and ascendancy of social media, with websites such as Facebook and Twitter occupying a central place in the lives of so many people. Thus, it would appear that the next frontier in the developing law of the service of process over the internet is the use of social media sites as forums through which a summons can be delivered."
It looks like Facebook just "got real," even in the eyes of the court.
"Facebook divorce" is a thing
The term "Facebook divorce" makes reference to all of the marriage breakups that have happened due to information discovered on Facebook and the other popular social media sites that have become wildly popular.
Divorce attorneys routinely turn to Facebook to find evidence in divorce cases such as pictures of social events, vacations, expensive purchases, and images that suggest that the person is being unfaithful or deceptive. According to the American Academy of Matrimonial Lawyers, 81% of their members have found or used evidence they found on social media websites in divorce proceedings.
Can using Facebook lead to the breakup of marriages?
An article on MarketWatch refers to the ever expanding body of research that links the increased use of Facebook to rising divorce rates. One study linked a 20% increase in the share of a state's population with a Facebook account was associated with a 2.2% increase in the state's divorce rate. A University of Texas at Austin research study found that 32% of heavy social media users report that they have thought about leaving their spouses compared with 16% of people who do not use social networks.
Let go of Facebook and other social media accounts during your divorce
If you are contemplating getting a divorce, shut down your Facebook page until you are divorced. Nothing positive can come from your having a Facebook page while you are negotiating a settlement or preparing for trial. It does nothing but provide ammunition to the opposing party. While you might "unfriend" your spouse and his or her friends, you are still connected to many people and there is no way to predict who might provide information to your spouse.
Above all be discreet. If your behavior online has led to divorce, then do not give your spouse's counsel any more fodder to use against you. If your partner was unfaithful with someone they met or reunited with on Facebook, do not hack into their account to try to dig up information. It is illegal and any information you find will not likely be admissible in court.
If you and your spouse have been considering divorce you want to work with a divorce attorney who has experience handling a broad spectrum of cases from a simple, uncontested divorce to more complex divorce cases. Talk to a Maryland divorce attorney today to get answers about your case.
If you or someone you know is considering divorce, please contact Cynthia H. Clark & Associates, LLC to schedule a consultation. As one of Maryland's premier family law firms, we have the skills, experience and resources you want on your side during complex divorce proceedings.