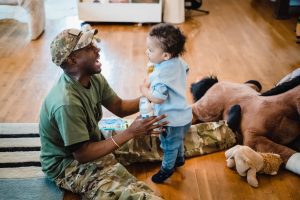 Divorce is never easy, but for the members of our armed services it can be particularly complex. Military family law cases are handled in civilian courts, but present complicating factors including deployments, military pensions, and child custody. Active service members face unique challenges with child custody cases.
The service requirements of active duty members of the military often involve long deployments that result in long absences from the family unit. Civilian judges can be unsympathetic to duty requirements, instead seeing these absences as a lack of involvement in the lives of any children involved.
Additionally, laws vary from state to state. If the family has been transferred frequently, establishing a "home state" can be difficult, and courts may defer to another state.
To complicate matters further, each branch of service has different guidelines for how support can be allocated. If the ruling of the civilian court is not handled properly, payments will not be made. The civilian court's ruling technically trumps military policy, which can result in additional paperwork, and therefore additional time on the process, as well.
The Uniform Law Commission
The Uniform Law Commission is a nonprofit association that:
"drafts uniform laws for the states to consider and enact. A uniform act is one that seeks to establish the same law on a subject among the various jurisdictions. When the term 'uniform' is used in the nation's laws, it is highly likely that the ULC drafted the act.
"The ULC also promulgates 'model' acts. An act may be designated as 'model' if the act's principal purposes can be substantially achieved even if the act is not adopted in its entirety by every state."
The ULC has been promoting a model act since 2012 called the Deployed Parents Custody and Visitation Act. Under this act, past deployment and any possible deployments in the future cannot be used against a parent during a custody proceeding. To minimize the impact on children, imminent deployments may be considered.
So far, seven states have enacted the majority of the Deployed Parents Custody and Visitation Act. This year, legislation has been introduced in Minnesota, Arkansas, and South Carolina. We hope that our state, with such a large number of active service members, will ultimately see the light and enact legislation that will alleviate the burden of child custody hearings on our armed forces.
Divorce can be difficult; choosing the right attorney should not be. Cynthia H. Clark & Associates, LLC has successfully represented military couples throughout Maryland. Please contact the firm to reserve a consultation.