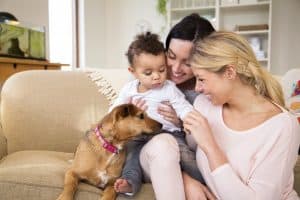 In light of today's continually changing legal landscape, we thought it would be a good time to re-visit the concept of second parent adoption. Briefly, second parent adoption is when one partner legally adopts his or her partner's child, to secure legal and equal rights as a parent.
The importance of handling your second parent adoption in Maryland
Things can be even more difficult for LGBTQ couples who are unmarried (because there is no presumption of parentage for the non-biological parent), or for couples who get together after a child has been born. There has been a rash of news stories about other states which discriminate against gay couples who wish to adopt, too. A Reuters report from 2018 states that "Nine states have laws allowing state-funded, religiously affiliated adoption agencies to refuse to place children with gay people based on religious beliefs. Republican-governed Kansas and Oklahoma passed such laws this year. Alabama, Mississippi, Michigan, North Dakota, South Dakota, Texas and Virginia all have similar laws."
There is no reason to believe that a state which would deny an adoption to a gay couple would not also find a way to block a second-parent adoption. This is why handling your second parent adoption in Maryland is so important. Not only is it protected by our laws, but it can safeguard your and your child's rights if you ever decide to move. An adoption is a judicial order – not a presumption – and must be followed by law.
Who can benefit from an Annapolis second parent adoption?
As you know, there's no one way to make a family. Second parent adoptions can be advantageous for special situations like:
One partner completed an adoption on his or her own, and the other partner is ready to legalize his or her parental relationship with the adopted child.
A same-sex couple who could not jointly adopt in the past wants to now protect the non-adopting partner's legal rights to their child.
An LGBTQ couple has a child through assisted reproductive technology and only one partner is considered the legal parent of the child.
No matter what your family situation, it's important you consider all possible legal repercussions. Today, there are so many ways to become a happy family. What's most important is that you protect your parental rights and the rights of your child. If you're unsure about what type of adoption might be most appropriate for you and your family, talk to an experienced Annapolis family law attorney for guidance.
The family law attorneys at Cynthia H. Clark & Associates, LLC are experienced in all aspects of adoption. Our goal is to ensure and protect the rights of you and your children. To reserve a consultation at our office in Annapolis, please call 410.921.2422 or fill out our contact form.