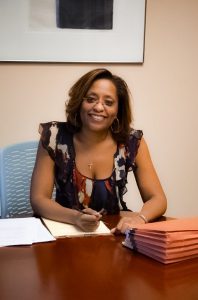 Cynthia H. Clark & Associates, LLC is proud to announce that partner Cynthia H. Clark is the 2015 Assistant Secretary of the James C. Cawood, Jr. American Inn of Court! This prestigious Inn is housed right here in Annapolis, and is named for the late Judge James C. Cawood, Jr. This is Ms. Clark's first election to an officer position in the Inn, though she has been a member for four years, and we are all incredibly proud of her and the work that she does.
What are the American Inns of Court?
The American Inns of Court are part of nationwide organization with the mission "to foster excellence in professionalism, ethics, civility, and legal skills." The Inns of Court are "uniquely non-partisan," and encourages all members of legal field – attorneys, judges, law students, and professors – to build collaborative and mentoring-based relationships with one another.
The James C. Cawood, Jr. American Inn of Court reached it current incarnation in 2007, when the Paca-Brent Inn changed its name to honor the late Judge James C. Cawood. The Paca-Brent Inn was formed in 1993, when two separate Inns joined forces to better serve the legal community, and therefore its clientele, as one larger organization.
The professional credo
As an Officer of the Inn, Ms. Clark will continue to advocate on behalf of colleagues and clients in Maryland. She will help to uphold the Inn's Professional Credo, a pledge made by the members to, among other things:
Treat the practice of law as a learned profession and will uphold the standards of the profession with dignity, civility and courtesy.
Value integrity above all.
Represent the interests of clients with vigor and will seek the most expeditious and least costly solutions to problems, resolving disputes through negotiation whenever possible.
Work continuously to attain the highest level of knowledge and skill in the areas of the law in which they practice.
Contribute time and resources to public service, charitable activities and pro bono work.
We are all very proud of Cynthia Clark's accomplishments, both as our colleague and as an Officer of the Inn of Court. We know that she will continue to advocate passionately on behalf of those she assists here and throughout the state.
Peter & Clark, P.A. is a family law firm based in Annapolis and serving clients throughout Maryland. To learn more about Ms. Clark's role in the James C. Cawood, Jr. American Inn of Court, or to discuss your legal needs with a skilled divorce attorney, we encourage you to contact us.