Divorce proceedings can be complicated. It is generally in the best interest of both parties to come to an agreement as quickly as possible to spare unnecessary emotional turmoil. However, one Maryland woman's case highlights a little known problem with Maryland divorce law.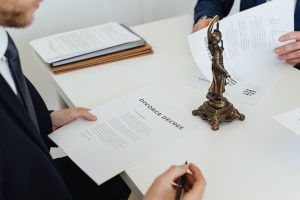 Cynthia Ohana is a member of the Orthodox Jewish community. Under Orthodox law, a member of a married couple can approach a rabbi to seek a divorce. If all goes well, the husband gives his wife a "get," a document that nullifies the marriage. However, this procedure must be voluntary for all parties. When Cynthia's husband, Ephraim, would not cooperate the rabbinical council gave her permission to seek a civil divorce.
Cynthia's civil divorce was granted; the court found that her husband had abused her. While this secular divorce dissolved her marriage in the eyes of the law, without a "get" she was still viewed as married in the eyes of her community. Though her legal divorce was finalized in 2005, it was not until January of this year that her husband finally ended a battle that lasted 11 years.
According to the Jewish Times, "Ohana first sought the help of CHANA, a Jewish aid program of The Associated: Jewish Community Federation of Baltimore, in September 2003 for domestic violence and secured the first of several protective orders from her ex-husband on Dec. 21, 2004. Although they secured a civil divorce in May 2005, Ephraim Ohana would not grant a get."
The Orthodox community rallied behind Cynthia, staging protests in front of Ephraim's residence. Even in the face of public protests and repeated requests by aid authorities, Ephraim refused to grant Cynthia the closure she needed to start a new life in the community.
Cynthia said, ""It affects me and any other woman who's going through the same struggle in that it prevents her from going forward in having a stable and loving relationship at home and remarrying and, ultimately, there's closure that's lacking."
What we can learn from one extreme case
Currently, New York is the only state in the country that legally prevents the withholding of documents that recognize divorce within a faith. A bill was proposed in Maryland in 2007 that would put women on equal footing during religious divorce proceedings, but it was not passed. Most likely, such a bill would be unconstitutional due to the First Amendment's separation of church and state. Handling such issues is left to the religious institutions. It is not unusual for a separation agreement to contain a clause that parties will cooperate to obtain a get, but such a clause would only be enforceable by the religious courts.
If you or someone you know is having problems with a divorce, please contact Cynthia H. Clark & Associates, LLC to reserve a consultation. As one of Maryland's premier family law firms, we have the skills, experience and resources you want on your side during complex divorce proceedings.