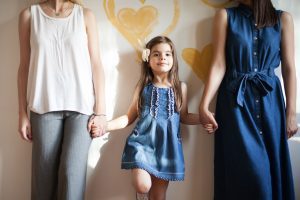 With the legalization of same-sex couple marriages in America, more and more same-sex couples are opting to have children. As of May 2017, it is reported that more than 25% of all Maryland same-sex couples currently have children.
There are protections in place for LGBTQ parents – the Court of Appeals ruled in July of 2016 "that people who have raised children but do not have a biological or adoptive relationship with a child can still be recognized as their legal parents," as reported by the Baltimore Sun. When a child is born, however, only one male and one female or two female partners may be listed as parents. Two male partners cannot, at this time, be listed on the birth certificate in Maryland without a second parent adoption.
Same-sex couples and the stepparent procedure
A second parent adoption, also sometimes called a co-parent adoption, is an additional way for same-sex couples to both become the parents and guardians of their child in the eyes of the courts. (Adopting your child with your partner does not preclude them from also being designated as a parent to your children.) This is a typical practice for same-sex couples that have, or desire to have, children, and these adoptions are recognized nationwide.
Many times, this means that one parent in a same-sex couple will need to avail themselves of their state's stepparent adoption procedures. This does not mean that the adoptive parent is treated like a step-parent – these are the only statutes in place in Maryland as of now. It is legally advisable for the non-biological parent to obtain adoption documents in case of a divorce.
If you have children and are embarking on a same sex divorce, it is in your best interest to have an adoption or parentage document laying out your parental rights prior to working with a Maryland divorce attorney. It is well within your rights to have access, visitation, or child custody after a divorce, and if you are the non-biological parent of your children, pursuing adoption options can help you protect that status, in the event that your divorce becomes contentious.
All parents should be able to see their children after a divorce, regardless of sexual orientation. Cynthia H. Clark & Associates, LLC is a premier Annapolis-based family law firm. We offer compassionate and skilled representation to same-sex parents throughout Maryland. To reserve a consultation, please call 410-990-0090 or fill out the firm's contact form.
Related Articles