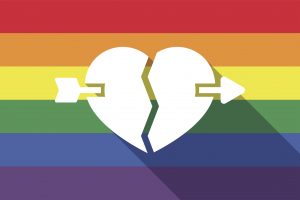 In the years since the U.S. Supreme Court ruled that marriage equality would be the law of the United States, state laws have been changing and adapting to same-sex marriage and the consequences it has for families and family law issues.
It turns out that the Supreme Court decision regarding marriage equality was just the first step for same sex couples and their families. Here we will share brief snippets of news stories about legal changes that are going on across the country that will have an impact on same-sex marriages and families.
Polls show growing support for same-sex marriage
In a poll conducted by the Pew Research Center for U.S. Politics & Policy, Support for Same-Sex Marriage Grows, Even Among Groups That Had Been Skeptical. Pew research polling indicates that 62% of Americans now say that they favor allowing same-sex marriage while 32% are still opposed to the idea. The article talks about how views on same-sex marriage have shifted dramatically in recent years, and in this research study, which was conducted in June 2017, among 2,504 adults, researchers found striking support for same-sex marriage among demographics and partisan groups that had, until recently, broadly opposed it.
Arkansas must now list both same-sex parents on birth certificates
On June 26, 2017, the Supreme Court of the U.S. ruled that, as per the Obergefell v. Hodges decision that entitles same-sex couples to civil marriage, "on the same terms and conditions as opposite-sex couples," the state of Arkansas is now required to list gay spouses on birth certificates. The state law in Arkansas had required that the male spouse be listed on the birth certificate when a woman gives birth to a child, however, the Arkansas Supreme Court held that state law did not have to apply in the same way for same-sex couples.
The case Pavan v. Smith was brought to the Supreme Court by two same-sex couples who were married, and who had conceived by artificial insemination. The Arkansas Department of Health listed only the mother's name on the birth certificates because the state law said that only husbands can be listed on a birth certificate.
Supreme Court Justice Gorsuch dissented, writing, "Nothing in Obergefell indicates that a birth registration regime based on biology, one no doubt with many analogues across the country and throughout history, offends the Constitution."
Judge in Kentucky recuses himself from adoption cases for "homosexual parties"
While some stories have good news for the cause of the acceptance of same-sex marriage and family, others represent a more entrenched way of thinking. In Kentucky, Judge W. Mitchell Nance has issued an order recusing himself from adoption cases involving "homosexual parties" as a matter of conscience, because "under no circumstance would the best interest of the child be promoted by the adoption by a practicing homosexual." In a story in the Courier-Journal, some experts said the judge may be violating rules by issuing a blanket refusal to hear same-sex adoption cases.
If you are a same sex couple facing a family law dispute, you will benefit from the services of an experienced Annapolis divorce attorney. We encourage you to give us a call at 410.921.2422 or fill out our contact form and schedule a consultation where you can discuss your case with our knowledgeable team of Maryland divorce lawyers at Cynthia H. Clark & Associates, LLC, who will protect your interests.