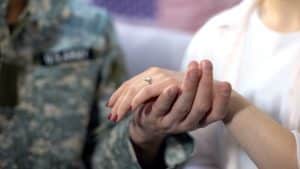 Getting divorced can cause difficulties for all parties involved. If you are entering into a divorce as a member of the U.S. military (active or retired), you will likely face additional challenges and considerations. You may be stationed overseas when you are served with divorce papers, or may be in the process of moving to a different U.S. base. You may have gotten married after already accruing part of your pension. Your duty and obligations to your country during this time may prevent you from properly responding to whatever documentation you receive.
Military divorces present specific issues involving:
The timeframe of the divorce proceedings
The jurisdiction over the divorce
How military pensions and other service related benefits are divided between the spouses
Special considerations in regard to child support and to the Parenting Plan
Today, we want to look specifically at the Servicemembers Civil Relief Act (SCRA) and how that Act may impact your divorce proceedings when you are on active duty.
Rights under the Servicemembers Civil Relief Act
In normal civil divorce proceedings in Maryland, when one spouse serves divorce papers to the other spouse, the spouse receiving the divorce papers must return a formal answer within a prescribed number of days. Once this is done, the court proceeds with the next stages. However, if one of the spouses is on active duty, the SCRA can affect those timelines.
Under the SCRA, a servicemember who has been called to active-duty service for at least 30 days can issue a written request to put divorce proceedings on hold if his or her duties prevent a proper response to court orders, or conflict with his or her timely participation in court proceedings. This hold, called a "stay," is 90 days. Courts may grant extensions of 60 additional days under some circumstances.
Why on-base attorneys cannot help you
Every branch of the military has lawyers, who are usually located on the majority of military bases. These attorneys cannot help you with your divorce proceedings: divorce is a personal matter, and their main concern is with legal issues affecting you as a servicemember. This is why it is critical that you work with a lawyer who has experience representing clients who have served in some branch of the military, and clients whose partners have served. Furthermore, you want an attorney who focuses her practice on divorce and other family law matters. The lawyers you meet on-base are not divorce attorneys, may not be licensed to practice in your state, and may not be able to offer you the best advice for your needs.
At Cynthia H. Clark & Associates, LLC, we are proud to represent clients who are serving in all branches of the military. We make sure your questions are answered and your rights are protected. To arrange a free consultation, call our law office today in Annapolis at 410.921.2422 or complete our contact form.