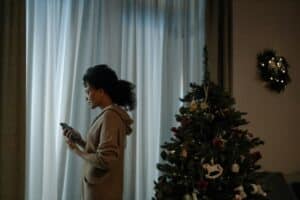 The holiday season seems to be about celebrating family traditions and remembering what you did in years past. When you are going through a divorce, it can be painful to think about previous holidays – but if you have a child to consider, you cannot simply pull the blanket over your head and wait for the season to pass. What can make the holidays difficult to get through is the expectation that it should be a joy-filled time of happiness, celebration and good times. If you are feeling the pain of going through a difficult divorce, or if this will be the first holiday season since your divorce, there are things that you can do proactively to have the kind of experience you want to have, and start creating new memories for you and your children.
Communicate with your former spouse about schedules. Come to an agreement about how you will share the holiday time between the two of you with the children and plan pick-up and drop-off times.
Check in with your children and make sure that they are OK. While children are a lot more resilient than adults sometimes give them credit for, it can be reassuring for them to hear that everything is going to be all right, or that any obstacles they are facing can be overcome. Avoid allowing your own feelings of anxiety, sorrow or anger to filter through in those conversations, and focus on what they need, emotionally or physically.
Coordinate gift buying with your former spouse. Resist the urge to try to make up for all of the turmoil of the divorce by overspending and lavishing them with gifts. Children want time and attention from their parents. Neither of those costs a thing.
Create new holiday traditions. Rather than focusing on how things used to be when the family was together, create new holiday traditions. Get the kids involved and allow them to contribute ideas to make the time you spend together special.
Find a place to volunteer for the holidays. When the children are spending their time with your former spouse, find an opportunity to give back and do some kind of volunteer work in your community. It provides a great way to get your mind off of your personal woes, and you will gain so much through the act of giving of your time to help others have a good holiday season. If you can include the children when they are with you, so much the better.
Schedule in some time for self-care. Hang out with your friends, do some fun, outdoor activities and go out of your way to avoid feeling isolated and alone.
Find a trusted counselor. If you find that you are really having a difficult time coping with the stress of the holiday and the stress of the divorce, be willing to talk to someone about it. Your clergy, a counselor or a trusted confidante will help you process your feelings and feel encouraged that you will get through this in one piece.
Let go of the image of the "perfect" holiday. Remember that the images that you see in the movies and that are described in holiday songs are fabricated. Keeping your expectations realistic will help you get through a challenging time. Besides, your new traditions could eventually become you "prefect" holiday, and you want to leave yourself open to that.
When you decide to take a proactive approach to the holidays it can make a huge difference in how you move through them. Do not let the pain of your divorce completely derail your holiday celebrations. This rough time will pass soon enough. Take the time to enjoy your life now, and help your kids get through this time of transition with some great holiday memories.
The experienced Annapolis family lawyers at Cynthia H. Clark & Associates, LLC have helped countless clients throughout Maryland move successfully through divorce and onto starting their new lives. You can count on our knowledgeable attorneys to offer skilled, competent legal support during a challenging time. Please contact us to reserve a consultation at our Annapolis office location to discuss your case.